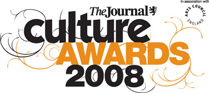 Lumiere was awarded, "Best Event – Durham", at the Journal Culture Awards.

Crown of Light
In November I was been commissioned to create a piece 'Crown of Light' for the north facade of Durham Cathedral.

This piece discusses Durham Cathedrals rich heritage and its place in the history of the region.

The majority of the imagery was taken from the Lindisfarne Gospels, a magnificent hand illuminated manuscript dating from the 7th Century.

Other images were photographed within the cathedral and manipulated to celebrate the architecture of this building.

I wanted to achieve a 'magic' installation that has no shadows from the many trees in the image area.

This posed a problem as to create this I needed six separate projection positions using four different lenses.

However, I think that the results justified the effort required.



The soundtrack was created by Musical Director Robert Ziegler and Sound Designer John Del'Nero.


This piece was created for the Lumiere festival which has filled the centre of Durham with artworks, mostly based around light.

Lumiere was held between the 12th to the 15th of November 2009 and received 75,000 visitors. Lumiere was organised by Artichoke.